Dr. Barclay Weisberg – Cosmetic Dentist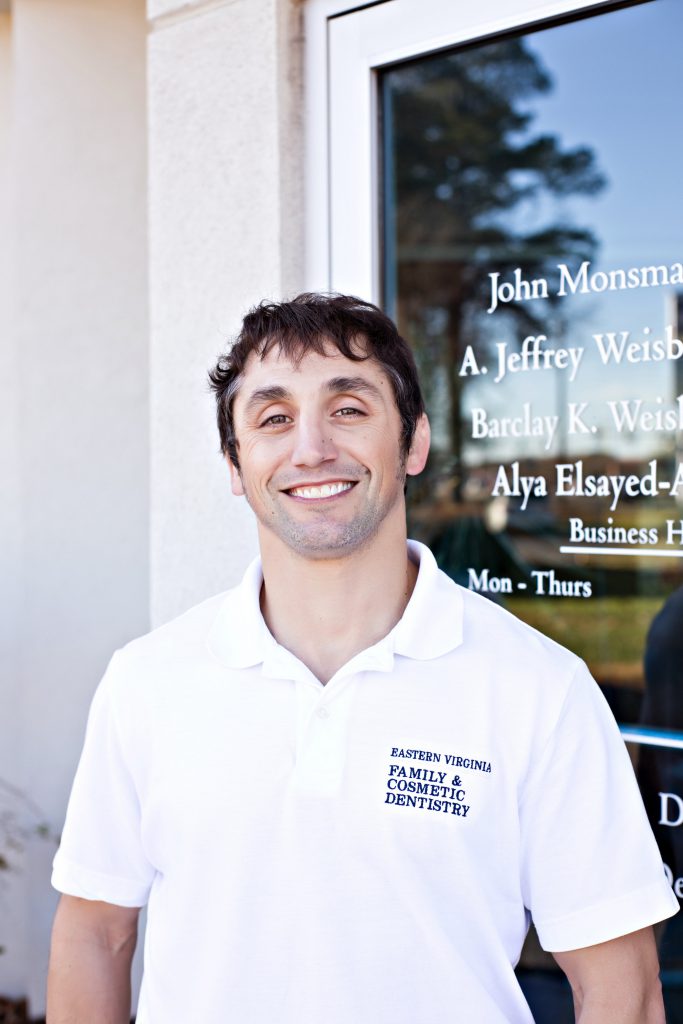 Dr. Clay Weisberg grew up in Hampton Roads and attended Norfolk Academy. After high school, he moved to Providence, RI where he attended school and wrestled at Brown University. During his third year, Dr. Clay had the opportunity to study abroad at the University of New South Wales in Sydney, Australia.
Dr. Clay received his dental education at the Medical College of Virginia. At graduation, he was recognized for his achievement by both the International College of Dentists and the Academy of General Dentistry.
Dr. Clay decided to continue his education by pursuing a post-doctoral degree at the University of Florida. Since completing his advanced education in General Dentistry, Dr. Clay Weisberg has returned to his hometown, where he practices with his father, Dr. Jeff Weisberg.
His passion for education has continued as he has transitioned into practice. He is an active member of the following groups:
American Dental Association
Virginia Dental Association
Academy of General Dentistry
American Academy of Cosmetic Dentistry
Fellow – Academy of General Dentistry
Tidewater Dental Association
Seaboard Dental Study Club
These organizations in combination with extensive continuing education help allow him to offer the latest advancements in dental techniques and technology to his patients. In 2009, he received his Fellowship in the Academy of General Dentistry. Prior to starting his family, Dr. Clay served as Adjunct Faculty at the V.C.U. School of Dentistry where he helped educate young dentists.
Dr. Clay and his daughters, Joelle and Genesse, live in Suffolk Virginia. When not working, the three of them enjoy mountain biking, arts and crafts projects, spending time at the beach, and playing with their puppy, Boots.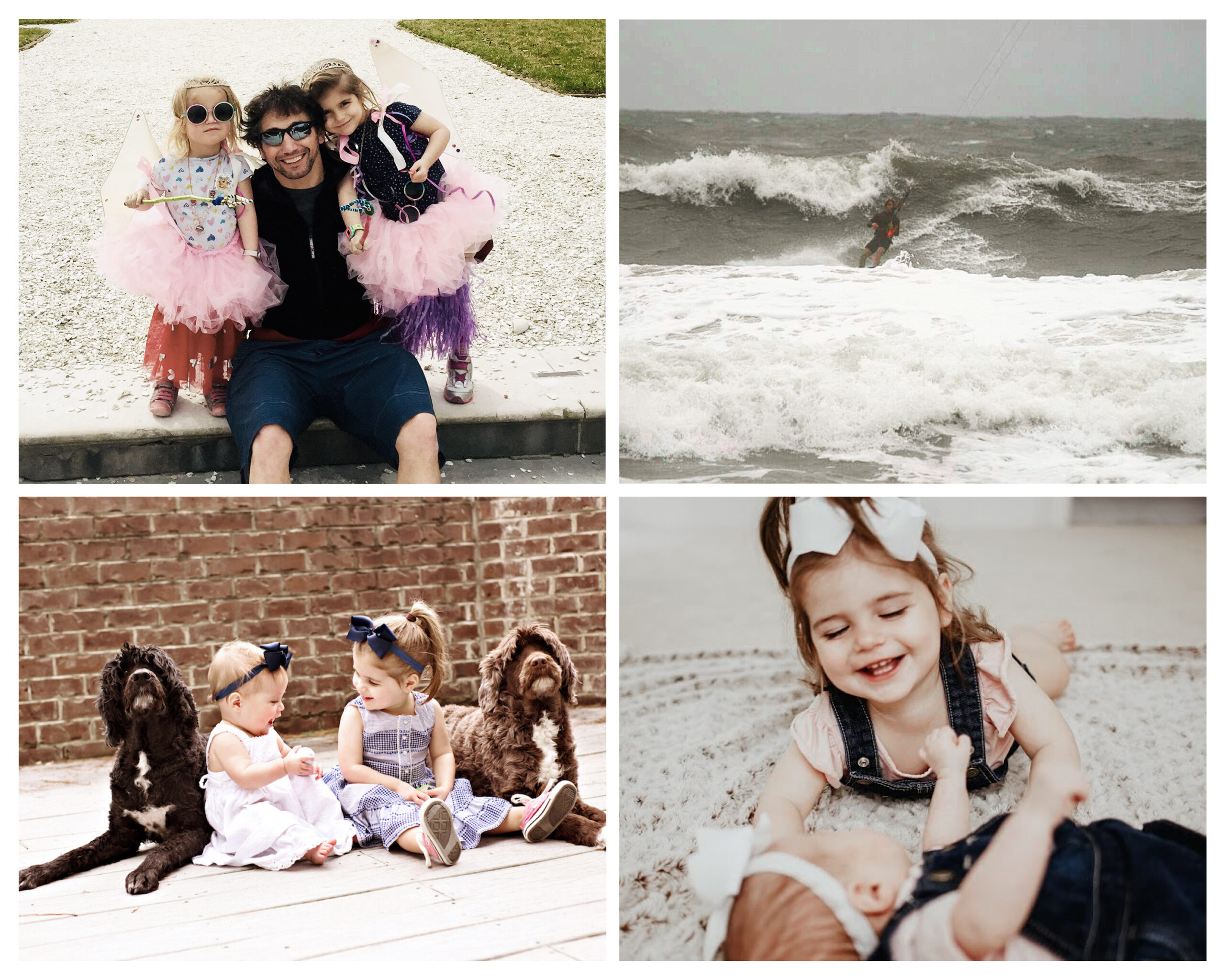 Why Choose Dr. Clay as Your Cosmetic Dentist?
When you select a cosmetic dentist, remember that you are putting your trust and safety in that person's care. You should always feel confident and comfortable with your dentist, and Dr. Clay knows that some of the most important aspects of his job are being a good listener and being attentive to your concerns. He understands how difficult it can be to find the right cosmetic dentist, and takes the responsibility of earning and maintaining your trust very seriously. In everything he does, Dr. Clay conducts himself with integrity and expresses personal care for all of his patients. Furthermore, his credentials, extensive training, and membership with the American Academy of Cosmetic Dentistry (AACD), a prestigious national organization of top dentists, indicate that he is exceedingly proficient in his craft and upholds the highest standards of excellence in cosmetic dentistry and patient care. Finally, Dr. Clay's results speak for themselves—his use of state-of-the art techniques, skillful expertise, and keen artistic sensibilities enable him to translate his patient's dental concerns and aesthetic goals into healthy, beautiful, long-lasting smiles.
Dr. Clay places a high priority on providing our patients with exemplary results and the best possible treatment experience. If you would like to learn more about Dr. Clay, or if you would like to schedule a consultation, please contact our practice today.
How to Choose the Best Cosmetic Dentist for Your Needs
There are several things to consider as you look for the best cosmetic dentist for your own unique needs and goals. It's important to remember that a cosmetic dentist is one who can not only perform general and restorative treatments, but also has extensive training in cosmetic dentistry techniques and procedures that can improve smile aesthetics—such as porcelain veneers, Invsalign®, dental implants, and more. Experienced cosmetic dentists typically make aesthetic treatments a strong focus of their practice. Like Dr. Clay, they also usually hold membership in organizations such as the American Academy of Cosmetic Dentistry.
Here are a few tips on how you can narrow down your options when it comes to selecting your cosmetic dentist:
Review the Dentist's Background and Credentials
One of the best ways to learn more about a prospective dentist's professional history is by looking closely at his or her list of credentials. You can learn a great deal about their experience, skill levels, and commitment by identifying factors such as: the number of years they've been practicing dentistry; organizations for which they hold affiliations or membership; community involvement; honors, awards, and recognitions they have received; and their areas of special focus. Biographical information is typically available on the practice's website, and you should feel free to ask the practice directly for any additional information you would like.
Take a Look at Patient Reviews and Testimonials
You can often get a general idea about the type of service you can expect from a particular dentist by reading about other patients' experiences. Patient testimonials and dentist reviews, available either on the practice's website or on third-party review sites, can serve as resources that offer a variety of opinions that can help you in your research.
Review Before-and-After Photos
A "Smile Gallery" can give you a great deal of information about the skill level of a particular cosmetic dentist. Before-and-after photos typically feature images of patients who have been treated at the practice. These images showcase specific procedures that may include a treatment you are considering, which can help you see the results that the dentist is capable of producing. If a Smile Gallery is not available on a dentist's website, feel free to ask to see before-and-after photos at the office.
Questions to Ask Your Dentist
Never be hesitant to ask questions of your prospective dentist. If you are thinking about contacting a dentist to schedule a consultation, there are several questions that can help you learn more about them and decide whether they are the right fit for your needs. Here are a few options:
What kind of education and training do you have?
How many years have you been in practice?
Do you have an area of special focus?
Are you experienced in many different treatments and techniques?
Is the procedure customized for my individual needs and goals?
What are the dental organizations for which you belong?
Can you tell me a bit about the technology you use and how it can enhance the treatment and results?
Do you regularly pursue additional dental education?
What is your overall approach? Do you typically treat patients as conservatively as possible to maintain original, healthy tooth structure?