Invisalign®

Crooked or unevenly spaced teeth can cause a person to feel self-conscious about their smile. When left untreated, misaligned teeth may also lead to oral health issues, as the teeth and gums can be much more difficult to clean. Metal braces have been the standard solution for these common orthodontic concerns. However, there are a number of inconveniences associated with metal braces, both functional and aesthetic. Traditional braces can be uncomfortable and force patients to limit the types of food they can eat. In some cases, braces may cause patients to want to hide their teeth. With Invisalign®, our cosmetic dentists can help patients achieve straight teeth efficiently and discreetly.
What Is Invisalign®?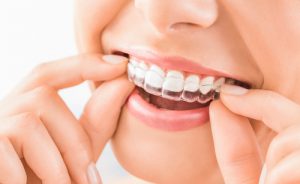 Invisalign® is an orthodontic solution that uses a system of clear plastic aligners to straighten crooked teeth. Unlike traditional metal braces, the Invisalign® aligners are virtually undetectable when worn. The aligners can be removed during meals, which means patients do not need to worry about food limitations during their treatment period. In addition, since the aligners are removable, patients can more easily maintain their oral hygiene habits.
What Concerns Can Invisalign® Treat?
Candidates for Invisalign® typically exhibit one or more of the following orthodontic concerns:
Crooked teeth
Gaps between the teeth
Unevenly spaced teeth
Overbite
Underbite
Openbite
Crossbite
Ideal candidates for Invisalign® have mild to moderately misaligned teeth. Our dentists may still recommend metal braces for some patients with severe tooth misalignment. To discover if you are a good candidate for Invisalign®, please schedule a consultation today.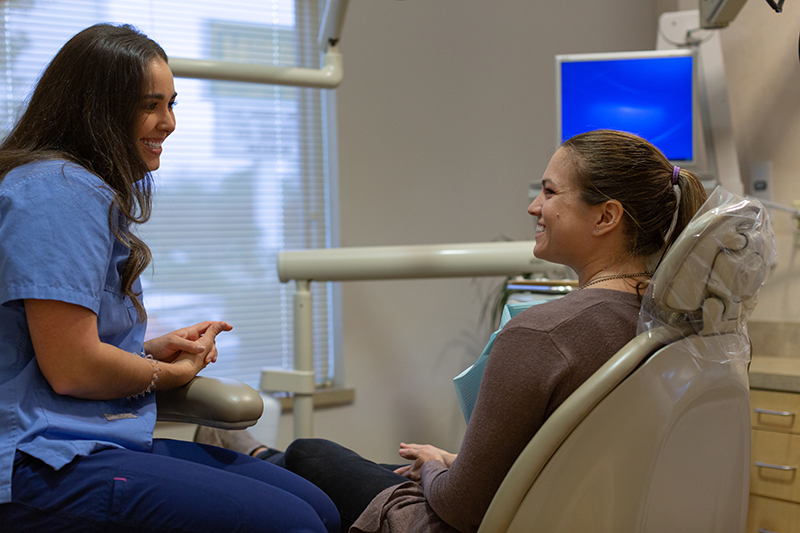 How Does Invisalign® Work?
The Invisalign® system of clear plastic aligners is designed to gently guide the teeth into place. Each set of aligners is custom-made for the patient to ensure a precise, comfortable fit. As the teeth begin to move toward their ideal position, the dentist will create a new set of aligners to further the improvements. Typically, patients exchange aligners once every two weeks as they progress toward their goal of straight teeth and a beautiful smile.
How Long Does Invisalign® Take?
The duration of treatment with Invisalign® will depend upon the severity of misalignment as well as the individual goals of the patient. Many patients are able to achieve straighter teeth in 9-15 months. Oftentimes, patients can achieve their goals more quickly with Invisalign® compared to metal braces. Although the Invisalign® aligners are removable for eating and cleaning the teeth, the effectiveness of treatment relies on the patient consistently wearing their aligners. Our dentists recommend that patients wear their aligners no fewer than 22 hours each day. Patients who do not regularly wear their aligners may prolong the length of time it takes to straighten their teeth.
How Much Does Invisalign® Cost?
Each Invisalign® treatment plan is custom-tailored to meet the needs of the patient. Consequently, there is no set cost for this orthodontic treatment. There are some common factors that contribute to the total cost of treatment with Invisalign®, including the type and severity of tooth misalignment, the number of aligners required during the treatment period, the experience of the dentist, the geographic location of the practice, and how diligently the patient wears the aligners. According to the manufacturer, the national average for the price of Invisalign® ranges from $3,000-$8,000.
The best way to determine how much Invisalign® may cost for you is to schedule a consultation with one of our dentists. Some patients may find that a portion of the cost of treatment with Invisalign® is covered under their dental insurance. Other patients may take advantage of our dental financing options, which can offer low monthly payments with little to no interest. A member of our staff would be happy to help you navigate your insurance benefits or review potential financing options.