Full Mouth Reconstruction
Full mouth reconstruction is a comprehensive dental treatment plan aimed at rehabilitating the health, structure, function, and appearance of the teeth and gums. With a precise combination of general, restorative, and cosmetic dentistry procedures, our experienced dentists are able to address oral disease, decay, damage, and missing teeth by performing multiple treatments during one appointment or using a multi-phased approach. Common dental concerns resolved with a full mouth reconstruction may include:
Cavities (minor to severe)
Crooked teeth
Dead and/or infected teeth
Gum disease
Broken, chipped, worn, or cracked teeth
Traumatic injuries
Bite abnormalities
TMJ disorder & bruxism
Cosmetic issues
Old, broken, or unsuitable dental restorations
Missing teeth
What Are My Full Mouth Reconstruction Options?
At Eastern Virginia Family & Cosmetic Dentistry we proudly offer a comprehensive range of dental procedures, which allows us to complete the majority of full mouth reconstruction treatment plans in-house. Our practice combines decades of dental expertise and experience with state-of-the-art technology, high-quality restorations, and advanced treatment techniques to deliver healthy, beautiful smiles our patients can be proud of. Full mouth reconstruction treatment options include:
In some complex cases, we may incorporate the services of a trusted specialist—such as a periodontist, endodontist, or maxillofacial surgeon—to provide the necessary level of care.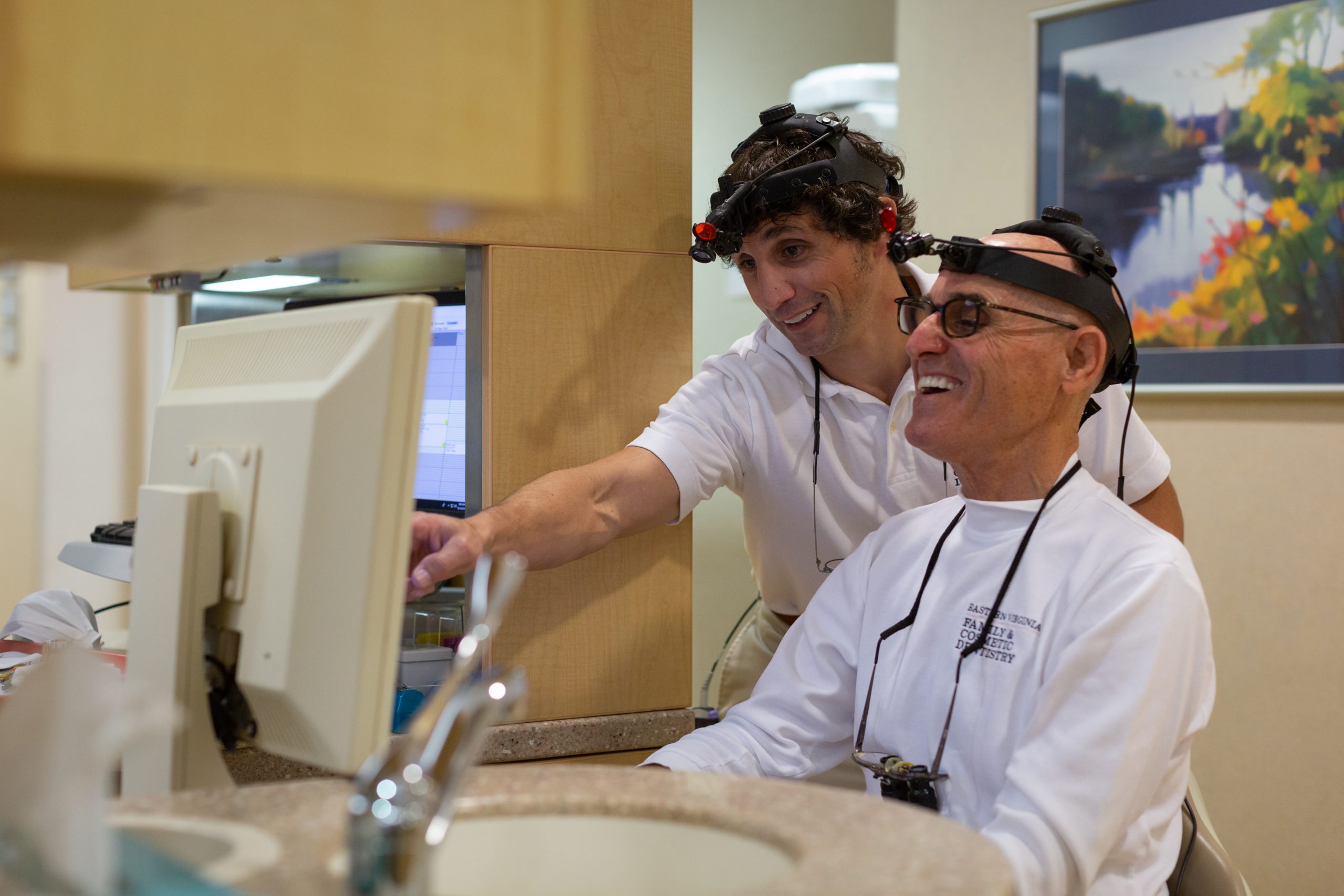 What Are the Steps of a Full Mouth Reconstruction?
Evaluation
The full mouth reconstruction process always starts with a thorough evaluation of a patient's current dental health, medical history, areas of concern, and treatment goals for a complete assessment. An oral examination, as well as diagnostic imaging of the jaw and dental structures, typically reveals the full scope of the patient's dental health needs.
Treatment Planning
Using the images and information collected during the evaluation phase, your dentist can then identify and explain suitable treatment options and develop a plan for how the full mouth reconstruction can be accomplished. A variety of factors will determine whether treatments may be performed during a single appointment or over multiple visits, and the appropriate scheduling will be arranged accordingly.
Treatment Execution
The way treatment is provided varies widely from patient to patient, but generally speaking, full mouth reconstruction usually begins with treatments aimed at eliminating disease and decay to create a healthy foundation for the dental procedures that follow. Once oral health has been sufficiently improved and stabilized, reconstruction and restoration of the dental structures typically follows. Final restorations are custom-designed to create results that are durable, functional, and natural-looking, whether the patient is receiving dental crowns, porcelain veneers, dental implant crowns, bridges, or implant dentures. The dental lab we work with creates each restoration to our specifications and sends the final product back to our practice when ready. Once received, the final restorations are fitted, adjusted if necessary, and placed. Our dentists are careful to ensure the patient has a proper bite to protect the new dental work and prevent jaw pain.
Results
When full mouth reconstruction is complete, patients smiles are utterly transformed. They can enjoy a stronger, healthier, more beautiful smile that is designed to be long-lasting. With proper daily hygiene and regularly scheduled twice-yearly dental visits, the results of a full mouth reconstruction should be easy to maintain. To see before-and-after photos of our full mouth reconstruction patients, we invite you to browse through our smile gallery in the right hand margin of this page.
How Much Does a Full Mouth Reconstruction Cost?
The customized nature of a full mouth reconstruction means that pricing is dictated based on the unique details of each patient's treatment plan. Factors that impact the final overall cost of full mouth reconstruction may include:
Complexity of the case
Dental treatments performed to improve oral health
Cosmetic treatments performed to improve aesthetics
Type and number of restorations
Materials used to fabricate any restorations
Anesthesiology costs
Specialist fees
Your dentist can provide you with a cost estimate for your full mouth reconstruction once your treatment plan has been developed. We can also check your dental insurance benefits to determine if any portion of your treatment is covered, and if so, what your out-of-pocket costs will likely be. We believe our patients should have access to the dental care they want, and we have developed our own dental benefit program that offers significant discounts on restorative procedures and a host of other unique advantages. Many of our patients enjoy paying for treatment with major credit cards and CareCredit® dental financing, which can be more affordable and convenient.
If you are considering full mouth reconstruction and want to learn more about how our team of doctors can transform the health and beauty of your smile, please contact Eastern Virginia Family & Cosmetic Dentistry and schedule your personal consultation.