The word "family" is right there in our practice's name, and for good reason: Eastern Virginia Family & Cosmetic Dentistry wants to provide the best possible care for you and every member of your family. We know you have options when it comes to dental care providers, and choosing a dentist that offers a comprehensive selection of treatments along with a friendly, compassionate approach is essential for individuals who are putting their trust in a dental team that will be caring for their children and other loved ones. Our experienced team of doctors places a strong emphasis on providing treatment options that are ideal for patients of all ages, in addition to creating an inviting atmosphere of warmth and comfort for every individual who walks through our doors.
If you would like to schedule an appointment here at Eastern Virginia Family & Cosmetic Dentistry, please don't hesitate to contact us today. We will be happy to answer any questions you may have about treatments that can be ideal for maintaining excellent oral health for you and your entire family!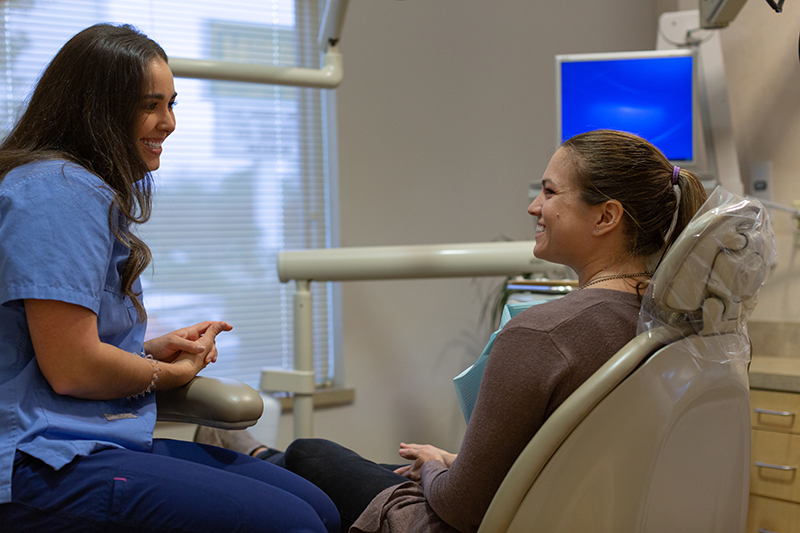 What Is Family Dentistry?
The term "family dentistry" often describes a field of dental care that essentially involves treatments designed to help patients of any age. These treatments are typically what is considered routine and preventative procedures that prioritize oral health maintenance as well as care for common problems such as cavities and gum disease; however, many restorative dentistry options can also be thought of in the realm of family dental care. While the terms "general dentistry" and "family dentistry" are often interchangeable, family dentistry typically indicates a strong emphasis on providing treatment in addition to comprehensive educational tools that can help both children and adults improve their oral health regimens and establish habits that can produce healthy teeth and gums long into the future.
How Do You Choose a Family Dentist?
When choosing a family dentist, there are a few prominent things to look for that can be helpful in the decision-making process. One of the most beneficial aspects of family dental care practices is that you can often find a thorough selection of treatment options that offers individuals a convenient and efficient way to meet the dental care needs of their whole family. This is particularly important for busy parents who are looking for dental care offices that provide a full spectrum of treatment options for their children and themselves, allowing them to obtain the care they need in one location. This is why Eastern Virginia Family & Cosmetic Dentistry has made it a top priority at our practice to offer an extensive menu of dental services right here at our office—we rarely need to refer patients to another practice for specialized care.
Another aspect of a good family dentistry practice is the environment the dental team has created and the approach to care they employ. Our dentists, hygienists, dental assistants, and administrative team are all committed to fostering an atmosphere of safety, comfort, and positivity for all of our patients, especially children. We strive to alleviate anxiety about the prospect of dental treatment and help individuals of all ages enjoy the best possible experience.
Family Dental Care Treatment Options
Family dental care typically includes diagnosis and treatment options that are often considered to be general and preventative dentistry procedures, such as:
Comprehensive Oral Exams and Digital X-rays
Professional Dental Cleanings
Fluoride Treatments
Tooth-Colored Fillings
Periodontal (Gum) Treatment
Dental Sealants
Oral Cancer Screenings
Tooth Extractions
In addition to these treatments, our practice offers a full range of cosmetic dentistry and restorative dentistry options that can help individuals improve both the appearance of their smile and the function of their teeth.
For more information on our family dental care services, or if you would like to schedule an appointment for yourself or your child, please contact our office. We look forward to hearing from you!