Restorative Dental Care
From advanced missing teeth replacement options to custom restorations that can improve the function and appearance of your smile, Eastern Virginia Family & Cosmetic Dentistry offers a comprehensive selection of restorative dental care treatments that can help you meet your needs. Our dentists utilize state-of-the-art technology and precise treatment planning to produce the best possible results and outcomes that look, feel, and function like natural teeth.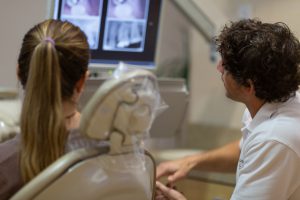 Many of the sections below include links to full pages describing our restorative dentistry options in greater detail. If you have additional questions, or if you would like to schedule an appointment, please contact our office today.
Dental Implants
The dental implant represents one of the most revolutionary steps ever taken in the field of restorative dentistry. This missing tooth replacement option involves the implantation of a small titanium post that will essentially serve as an artificial tooth root. Dental implants ultimately support custom dental crowns to give patients comprehensive and secure teeth replacement that is virtually indistinguishable from natural teeth.
Implant Dentures
Implant-supported dentures are a popular alternative to traditional removable dentures. These full-arch restorations involve the combination of a custom denture anchored to the jawbone by a select number of dental implants to provide unsurpassed denture stability, support, and comfort. Experience the renewed confidence of chewing, smiling, and speaking with natural-looking implant dentures that are designed to stay firmly in place without the need for denture pastes and putties.
Traditional Dentures
For individuals who may not be candidates for dental implants or implant dentures, and for those who simply would like an alternative to those treatments, traditional dentures may be an ideal option. Dentures have become more and more advanced over the years, helping patients replace missing teeth with a customized, removable prosthesis. Our doctors take special care to craft dentures that can provide outstanding function, comfort, and aesthetics.
All-On-4®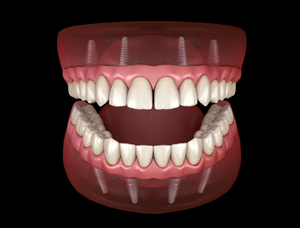 All-on-4® is a popular method for supporting and stabilizing custom denture restorations with strategically placed dental implants. This implant denture option utilizes four dental implants on the upper or lower dental arch—two in the front and two in the back—to provide a secure foundation for a denture prosthesis. The All-On-4® technique can be an especially effective alternative for patients with jawbone loss that disqualifies them from extensive single-implant restorations.
Dental Bridges
When a single tooth or multiple teeth are lost in one particular area of the mouth, a dental bridge may be a good option for replacement. This treatment involves the use of natural-looking artificial teeth that are placed in the space created by the missing teeth, which are supported either by dental implants or the natural teeth surrounding them. This can ultimately "bridge the gap" created by the missing teeth with results that look and feel natural.
Dental Crowns
Dental crowns can restore severely damaged, decayed, worn, misshapen, or misaligned teeth to much healthier form and function. A dental crown is a customized restoration designed to fit comfortably over the entire tooth, enhancing its strength and giving the compromised tooth structural protection from further harm. Crowns can ultimately improve function, health, and aesthetics with exceptional results.
CEREC® Same-Day Restorations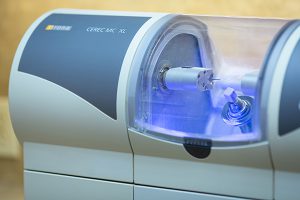 CEREC® is a state-of-the-art in-office milling system that allows our dental team to fabricate custom-designed fillings, crowns, and veneers in less than an hour. The final restoration can be placed during the same visit in which the tooth is prepared, eliminating the need to return for a second appointment. These natural-looking restorations are conservative, strong, biocompatible, and plaque-resistant. CEREC® can make many restorative procedures more convenient for our patients by essentially bringing the dental laboratory right here to our office.
Full Mouth Reconstruction
When dental health problems become compounded and the teeth and gums sustain serious damage, a combination of advanced dental procedures can give you back your smile. Our dentist can develop a customized full mouth reconstruction treatment plan that can replace missing teeth, restore compromised teeth, and improve oral health, function, and the appearance of your smile.