Dr. Jeffrey Weisberg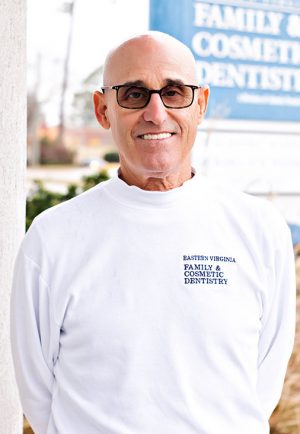 Dr. Jeff Weisberg was born and raised in Hampton Roads. He graduated from Norfolk Academy, University of Virginia and Tufts School of Dental Medicine, Boston, MA. Dr. Jeff has been serving the Tidewater area for more than 40 years. His practice in Churchland draws patients from Chesapeake, Portsmouth, Suffolk and nearby Norfolk and Virginia Beach areas. Loyal patients travel from as far away as Washington, D.C. and North Carolina.
Dr. Jeff is experienced with many cosmetic and family dentistry procedures. He is committed to providing patients with the treatment they need in the most comfortable way possible.
Dr. Jeff is a member of:
American Dental Association
Virginia Dental Association
Tidewater Dental Association
"My dental training at Tufts Dental School placed tremendous importance on treating the whole patient and not just the tooth…"
If you would like more information about Dr. Jeff, or if you would like to schedule a consultation at Eastern Virginia Family & Cosmetic Dentistry, please 
contact us
today.