Implant Dentures
At the Eastern Virginia Family & Cosmetic Dentistry, we focus on providing tooth replacement solutions that simulate natural tooth structure, function, and aesthetics. Using state-of-the-art dental implants and custom-designed full arch restorations, our dentists create implant-anchored dentures that can enable patients to once again chew, speak, and smile with confidence. These innovative dentures are designed to lock into place, which helps them feel and function more like natural teeth. Whether patients are replacing missing or damaged teeth for the first time, or looking to upgrade from traditional dentures, implant-retained dentures can be an excellent long-term option.
What Are Implant Dentures?
Although traditional dentures may serve as an effective method of replacing missing teeth, implant dentures can offer a more comfortable, convenient, and cosmetically pleasing solution. Implant-supported dentures, also referred to as "anchored dentures", require strategically placed dental implants to secure the full arch(es) in place. Designed to restore proper dental function, improve bite stability, and create a natural-looking smile, implant-supported dentures can be an excellent option for patients who want to replace all of their upper and/or lower teeth.
What Are the Pros of Implant Dentures?
Traditional dentures can be associated with a number of inconveniences. The pastes and adhesives used to hold traditional dentures in place can be bothersome and unreliable. Ill-fitting dentures may also be prone to slipping along the gums, which can cause difficulty eating or speaking, and be uncomfortable and embarrassing.
For patients interested in denture alternatives, implant-supported dentures can offer a number of notable advantages, including:
A precise, secure fit
Denture stability
Superior comfort
No pastes or adhesives required
A strengthened bite
Improved speech
A more natural look and feel
Fewer food restrictions
Implant-supported dentures have also been shown to reduce gingival irritation and jawbone loss when compared to traditional dentures. Implant-retained dentures may also present a good alternative for patients who are not ideal candidates for a full set of single-crown dental implants.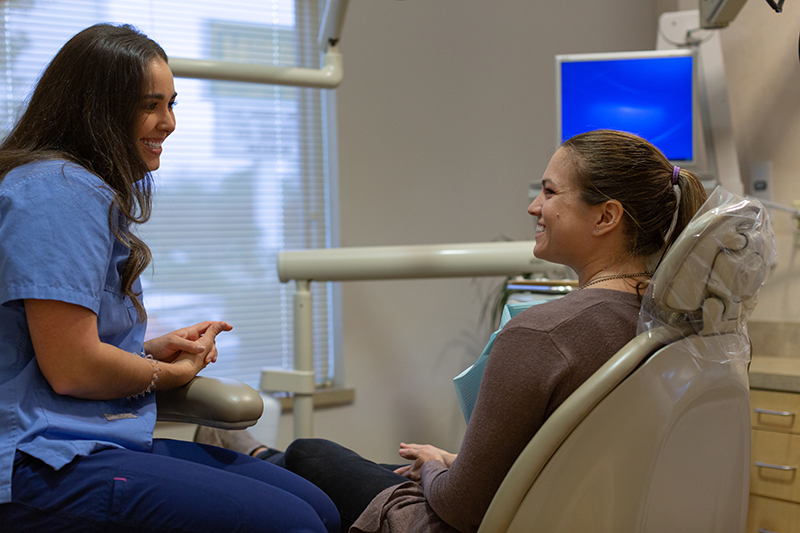 What Are My Implant Denture Options?
The term "anchored denture" refers to any denture that is secured with dental implants. There are several different treatment approaches our dentists can customize to meet the unique needs and goals of each patient. The right technique depends upon factors such as jawbone density, personal preferences, and budget.
All-on-4®
The All-on-4® technique uses four dental implants per arch to secure the denture in place. Two implants are placed on either side of the front of the mouth and two additional implants are angled posteriorly to create a comfortable, stable fit.
All-on-6
"All-on-6" is a technique similar to All-on-4® that uses six dental implants per arch rather than four. The All-on-6 technique provides additional stability and may be used for patients who have diminished jawbone density.
Full Mouth Restoration
Full mouth restoration with implant-supported dentures refers to cases in which a patient desires implant-supported dentures to replace all of the upper and lower teeth, creating a beautiful new smile.
During the consultation process, your dentist will perform an oral exam, review your medical history, and help you decide which full-arch dental implant option can best meet your needs.
How Is the Implant Dentures Procedure Performed?
Each implant denture procedure is custom-tailored to achieve natural-looking aesthetics and a comfortable fit. The titanium dental implant posts are placed in the jawbone according to the pre-determined surgical plan. In some cases a temporary denture can be attached while the implants heal. Once the dental implants become healed and integrated with the bone, the final denture restoration can be secured. The dental implant surgery can be performed using sedation techniques to relax patients during treatment. The procedure can often be completed in one office visit.
How Much Do Implant Dentures Cost?
There is no one set price for implant-supported dentures, since each procedure is customized for the individual patient. Common factors that are used to calculate the full cost of the procedure can include:
Number of arches being replaced
Type of implant denture selected
Anesthesiology costs
Type of material used to create the restoration(s)
Any dental treatments required to improve oral health prior to implantation
At the end of your initial consultation, your dentist can provide you with a price quote for the procedure. For qualifying patients who could benefit from low monthly payments and low interest rates, we offer a number of flexible dental financing options.
If you have questions about implant dentures, we encourage you to contact our office to schedule a consultation.