Tooth-Colored Fillings
In the past, a cavity could only be filled using unsightly metals like silver and amalgam. Thanks to advancements in dental technology, our team of doctors can now provide you with tooth-colored fillings at Eastern Virginia Family & Cosmetic Dentistry. Made of durable, composite material, these natural-looking fillings are more effective, aesthetically appealing, and less invasive.
Understanding the Procedure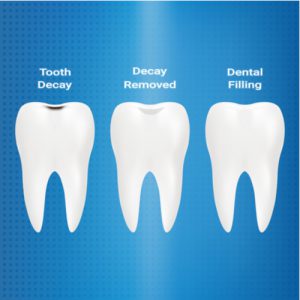 On the day of your treatment, your dentist will begin by numbing your tooth to ensure your comfort. The decaying portion of your tooth will be gently removed. Excess debris and bacteria will be removed from your tooth and the tooth-colored filling will be layered into place. After each layer is put in, a special light will be used to harden the material, allowing it to set and harden quickly. Finally, your dentist will clean and polish your filling to make it look as natural as possible.
To maintain your fillings, you should maintain a dental hygiene regimen at home that involves brushing and flossing at least twice a day. Biannual visits to our practice will ensure your long-term oral health and give the doctor a chance to spot any signs of complications or conditions. If you have any questions or concerns about a procedure please don't hesitate to give us a call.
The Benefits
The application of a tooth-colored filling only requires a single appointment, during which your dentist will provide results that can last years. Unlike outdated metal fillings, tooth-colored fillings are incredibly durable, and can improve the strength of your smile. Amalgam fillings are an alloy of multiple different metals. These silver fillings are mechanically retained within the tooth and do not have the advantage of chemical bonding of composite fillings. Besides being esthetically superior and matching the rest of your smile the composite material is safe and highly compatible with the soft tissues in your mouth. Additionally, tooth-colored fillings require less enamel removal than the silver or amalgam fillings.
The enamel of your tooth expands and retracts in reaction to various temperatures. Because your tooth and metal react at different rates, metal fillings can be painful and hypersensitive to changing temperatures. Composite fillings react more similarly to your natural teeth, making them more comfortable.
The appearance of tooth-colored fillings is also more appealing, as they look just like your natural tooth and blend easily into your smile. These fillings are multi-functional and can be used to repair chipped, cracked, or broken teeth as well.
Candidacy
If your teeth are sensitive to metal or you are concerned about the appearance of metal in your smile, tooth-colored fillings can restore the appearance of your smile and preserve its structure.
There are many different types of fillings, all of which will be discussed in detail during your consultation. Our team of doctors is dedicated to finding the most relevant treatment for your individual needs and will go to great lengths to educate you about your dental condition and treatment options.
Learn More About Tooth-Colored Fillings
There is no need to settle for outdated and unsightly metal fillings when Eastern Virginia Family & Cosmetic Dentistry can provide you with top-quality tooth-colored fillings at their Chesapeake office. If you are interested in one of our services, please contact us today to schedule a consultation.