Dental Solutions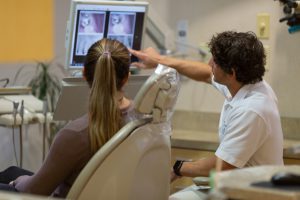 One of the hallmarks of Eastern Virginia Family & Cosmetic Dentistry is our commitment to providing our community with an extensive selection of advanced dental treatments right here under one roof. With options for routine and preventative dental care, cosmetic dental enhancement, and treatments that can restore oral health and dental function, we strive to make your visit with us as convenient and efficient as possible.
Please follow the links below to learn more about the many solutions available from our skilled dental professionals, and contact us today with any questions you may have.
Preventative & Comprehensive Dental Care
Our team offers an array of preventative & comprehensive dental care options designed to prevent major problems from developing and to address numerous concerns associated with oral health conditions. From family dental care procedures and professional cleanings to root canal therapy, gum disease treatment, tooth extraction, and treatment for TMJ Disorder, we can help you meet your needs.
Restorative Dental Care
With restorative dental care, our dentists can replace missing teeth, repair damaged teeth, and enhance the appearance of your smile with exceptional results. Options such as dental implants, porcelain crowns, dental bridges, and even full mouth reconstruction procedures can enhance dental function and aesthetics and ultimately have a positive effect on one's day-to-day life.
Cosmetic Dental Care
A healthy, beautiful smile can do wonders for an individual's self-confidence. Our practice offers an expansive selection of cosmetic dentistry options designed to address chips and gaps, misalignment, deep stains and discoloration, and other concerns that may compromise smile aesthetics. Porcelain veneers, teeth whitening, Invisalign®, and comprehensive Smile Makeover procedures are some of our most popular treatments.
If you would like to schedule an appointment, please contact Eastern Virginia Family & Cosmetic Dentistry.