Dental Technology
While the ability to provide the best possible care is largely dependent on the skills and experience of your dental team, the fact is that dental technology also plays a major role. State-of-the-art dental technology is essential for making an accurate diagnosis, giving patients a more comfortable and efficient treatment, and producing successful results that go beyond expectations. Our dentists at Eastern Virginia Family & Cosmetic Dentistry are proud to offer some of the latest diagnostic and treatment technologies available, which can ultimately make your experience at our practice quicker, more precise, and more convenient.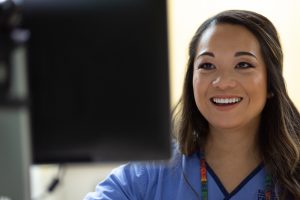 Please take a moment to become familiar with some of the dental technologies we routinely utilize at our practice. If you would like to schedule an appointment, please contact our office today.
Cone Beam CT Imaging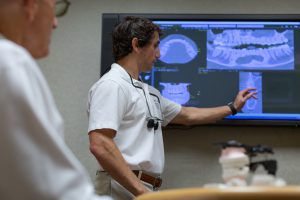 Cone Beam Computed Tomography (CT) is a 3-dimensional imaging system that produces comprehensive, high-definition images of your oral structures. The imagery is so detailed that our dentists can have a close look at the nerves, joints, and other aspects of jaw anatomy. This advanced type of x-ray technology can make treatment planning for dental implants and many other procedures incredibly precise, allowing our team to more accurately predict the outcome of specific treatments. In addition, Cone Beam CT imaging helps with meticulously identifying any problem areas so that you can have a better understanding of why certain procedures may be recommended. It serves as an extremely useful diagnostic and planning tool, and can make the entire process more efficient while increasing the potential for successful results.
Digital X-Rays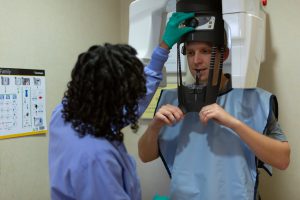 Digital x-rays eliminate many of the drawbacks associated with traditional film x-ray techniques. They can reduce patient exposure to radiation by up to 90 percent, and they do not require chemical development agents that may be harmful to the environment. Plus, once the images are taken, they are ready to view almost instantaneously, and they can be transmitted electronically. This significantly reduces the time necessary for sending the x-rays to insurance companies and minimizes any potential delays between the diagnosis and treatment process.
Microscopic Dentistry
Dentists often need advanced magnification to detect complications and provide thorough treatment. Loupes are the instruments most often used to provide increased visual acuity. In some cases, greater magnification is needed than dental loupes can provide. Our dentists have invested in a dental operating microscope that provides an incredibly close look at the recesses of the teeth and gums. This microscopic dentistry technique enhances our ability to locate problems that may not be prominently noticeable.
TRIOS® Digital Impressions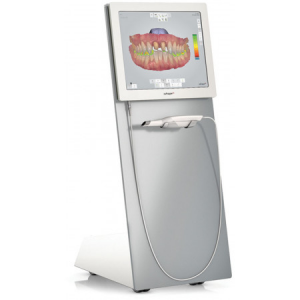 With the TRIOS® intraoral scanner, our dental team can eliminate the need for messy, putty impressions. The TRIOS® technology utilizes a digital impression technique to create a blueprint for the creation of dental crowns, porcelain veneers, dental bridges, as well as cosmetic and other restorative dentistry treatments. Instead of relying on a somewhat uncomfortable process that requires the application of a gooey material to be placed on your teeth for an extended period, TRIOS® digital impressions involve a quick scan of your teeth that's taken by a dental wand. The impression can be instantly viewed on a computer monitor, where you can evaluate the results with our dentist and talk about the next steps. Then, the impression can be used as the foundation for the production of a custom restoration designed to provide results that fit comfortably while looking and feeling like a natural tooth.
CEREC® Same-Day Restorations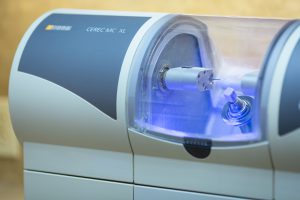 One of the most innovative and beneficial pieces of technology at our practice is the CEREC® in-office milling system. CEREC® allows our dentists to design and manufacture dental restorations such as crowns, porcelain veneers, and others right here at our practice. This means that many patients can have their permanent restoration produced and placed in a single appointment, without having to wait weeks for it to be developed at an outside dental laboratory.
Our CEREC® technology also includes the CEREC® Primescan intraoral scanner. This advanced imaging system takes a digital impression of the teeth that can be used to develop a CEREC® restoration, ultimately streamlining the process for greater convenience.
Erkoform 3D™ Motion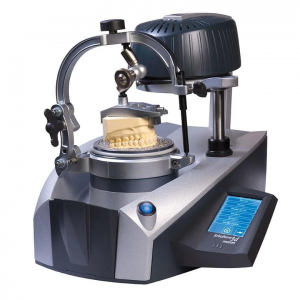 Erkoform 3D™ Motion is a technology that utilizes a state-of-the-art plastic molding technique called "thermoforming" to create custom dental appliances. Right here at our office, we can create bleaching trays for at-home teeth whitening and customized mouthguards without relying on an offsite dental lab to produce these items. They are developed based on digital impressions of your oral structures, which are used to create appliances uniquely designed to fit as comfortably as possible.
Electric Handpieces
Our dental team uses electric handpieces to avoid excessive reliance on the air-driven handpieces of the past. We find that electric handpieces are more powerful and precise for all kinds of commonly performed procedures, including those that involve modification of natural tooth structure and refining the shape of dental restorations. Electric handpieces also typically result in less vibration while in use, which can help us enhance the accuracy of treatment.
Nitrous Oxide
In addition to a selection of dental amenities on our Comfort Menu to make patients feel more at ease during treatment, we offer nitrous oxide for individuals who suffer from dental anxiety. Nitrous oxide, commonly referred to as "laughing gas," allows patients to achieve a feeling of relaxation and calm during their treatment. This simple technique involves the nasal inhalation of nitrous oxide gas throughout the procedure. Nitrous oxide does not put patients in a state of unconsciousness, so individuals should be fully alert (yet very relaxed) while the dental procedure is performed. Once treatment is complete and the gas is stopped, the effects should wear off within seconds.
If you would like additional information on our dental technology and the treatments available at our practice, please contact Eastern Virginia Family & Cosmetic Dentistry today.