Crooked Teeth
When you look in the mirror and smile, do you envision a straight, beautiful smile? Crooked teeth are quite common, but can take a major toll on your confidence. Fortunately, our team of doctors offers porcelain veneers, Invisalign®, and dental crowns to comfortably correct or conceal crooked teeth. Our dentists can oversee your entire treatment at our practice. You can finally achieve the beautiful smile you have always wanted with these treatments. We use the finest materials in cosmetic dentistry so you can be sure your new smile will not only look great, but also last for years to come.
What Causes Crooked Teeth?
There are several causes of crooked teeth but genetics and inherited traits are the most common factors. Other causes include:
Early loss of baby or adult teeth
Ill-fitting restorations such as fillings, crowns, and bridges
Tooth loss
Insufficient jaw space
During an in-depth consultation we can determine the cause for your misalignment. Together, you and your doctor create a customized treatment to restore or create proper alignment and a more symmetrical, aesthetic appearance.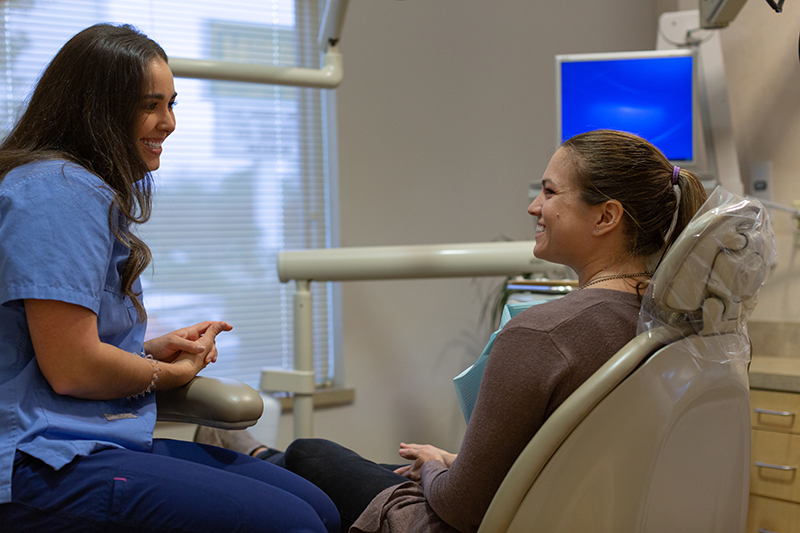 Potential Complications from Crooked Teeth
When your teeth are not properly aligned, it can cause a host of other oral complications. Proper chewing may be difficult if teeth are tipped or rotated, and it can be a challenge to maintain proper oral hygiene because of crowding. As a result, crooked teeth can put you at an elevated risk for developing cavities and periodontal disease.
Since crooked teeth can also cause your bite to be misaligned, you may place excess strain on your jaw, facial, and neck muscles, which can lead to temporomandibular joint (TMJ) disorder. Another important aspect to consider is your appearance. Uneven, gapped, and crowded teeth can make patients apprehensive to smile, and can have a negative impact on your self-esteem and confidence.
Straighten Your Smile with Our Cosmetic Treatments
Our cosmetic options allow patients to straighten their smile while keeping their treatment discreet and comfortable. Crowns and porcelain veneers are common options to treat individual crooked teeth. While veneers can conceal cosmetic misalignment, a crown will allow our doctors to properly align the restoration for improved oral health and bite.
We can provide customized, lifelike dental crowns and veneers in our office. For each treatment, your teeth will be gently reshaped to be able to accommodate the restoration. Dental crowns will require that more tissue be removed to create a stable base for the restoration. We use very conservative techniques to remove only the necessary amount of enamel. When your final, aesthetic crown or veneers are ready, we will securely bond them in place. With proper care, your highly lifelike, porcelain restorations can last for years.
In some cases, we can also provide Invisalign®, which features a series of aligners or trays that fit snugly around your teeth and gently move the teeth into their optimal position. Every two to three weeks you will move onto the next aligner in the series to accommodate your teeth's new position.
Contact Us
We understand how crooked teeth can affect your oral hygiene and appearance, and we want you to feel secure in your smile. We can take highly accurate impressions of your smile to create your custom aligners, crowns, or veneers, and begin correcting your smile today. Contact our office online or call (757) 483-6297 to schedule an appointment.