Dr. Alya Elsayed-Ali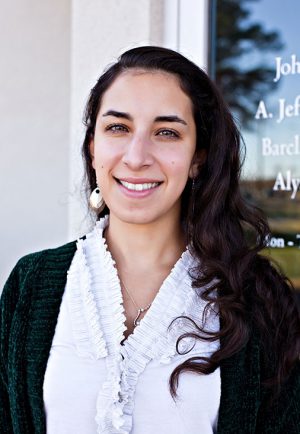 As a member of our dental team at Eastern Virginia Family & Cosmetic Dentistry, Dr. Elsayed-Ali brings experience and expertise in anterior reconstructive dental work, conventional dental crowns, and removable dental work. Dr. Elsayed-Ali performs numerous advanced procedures at our practice, and is particularly adept with restorative dentistry treatments that can enhance dental function, improve smile aesthetics, and renew the structure and health of the teeth. Dr. Elsayed-Ali is also extensively trained and experienced with Invisalign®, an orthodontic treatment that can discreetly correct teeth misalignment and bite irregularities with the use of clear, removable aligners rather than metal brackets and wires. 
Alya Elsayed-Ali, DDS was born in New York and grew up in Virginia Beach. She attended the International Baccalaureate program at Princess Anne High School, and completed her undergraduate studies majoring in chemistry at University of North Carolina at Chapel Hill. While she was an undergraduate, she discovered dentistry on a volunteer trip to Honduras where she assisted dentists providing services to families with little access to dental care. She shadowed at the University of Virginia Department of Dentistry and became certain of her passion for the dental field. She completed dental school at Virginia Commonwealth University. 
Memberships 
Dr. Elsayed-Ali is a member of many respected dental organizations, including the: 
American Dental Association 
Virginia Dental Association 
Peninsula Dental Society 
In her free time, Dr. Elsayed-Ali enjoys trying out new restaurants, making jewelry, and taking her puppy Zara to the Chesapeake Bay. 
For more information, or to schedule an appointment at our office, please contact us today.