All-on-4®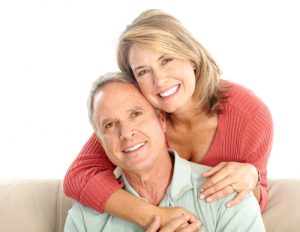 Whether you are feeling self-conscious about missing teeth, dental damage throughout your mouth, or a set of uncomfortable removable dentures, the All-on-4® technique may be the right solution for restoring your smile. At Eastern Virginia Family and Cosmetic Dentistry, our dentists offer All-on-4® implant supported dentures, which are designed to provide comfortable, secure full-arch replacements that are functional, natural-looking, and long-lasting.
What Is All-on-4®?
All-on-4® is a system of anchored dentures that can effectively replace a full row of missing teeth. Unlike traditional dentures that rely on adhesives or suction to hold the restoration in place, All-on-4® utilizes dental implant technology to securely fasten the denture to the gums. Our patients often choose All-on-4® as a first-time solution for missing teeth or as an upgrade from traditional dentures. This state-of-the-art technique allows patients with missing teeth to once again eat, speak, and smile with ease and confidence.
What Are the Benefits of All-on-4® Dental Implants?
Patients with traditional dentures frequently experience several common inconveniences, including food limitations, messy pastes or adhesives, uncomfortable denture "slippage", gum irritation, or embarrassing incidents related to denture movement or improper fit. With All-on-4®, these worries can be eliminated, allowing patients to better enjoy their everyday lives and smile with confidence. Four strategically positioned dental implants fused with the jawbone provide stable anchors the denture can "lock" onto securely. Additional benefits of All-on-4® can include:
Improved chewing and speech
A comfortable, secure fit
Simplified dental hygiene
A natural-looking smile
Increased self-esteem and confidence
Fewer restricted foods
Since All-on-4® implant supported dentures do not require as much jawbone volume as full-mouth restoration with single dental implants, they are often a great alternative for patients who are not good candidates for a full set of dental implants. Most patients who are well-suited for All-on-4® do not require bone grafting prior to their procedure. In addition, All-on-4® anchored dentures are often more cost-effective than single implant restorations, while providing many similar functional and cosmetic benefits.
What Should I Expect During the All-on-4® Procedure?
The All-on-4® method is designed to replace an entire row of missing teeth. Patients who have one or more natural teeth remaining will require tooth extractions prior to beginning the All-on-4® procedure. There are several ways in which All-on-4® can be used to restore lost functionality:
Upper Arch Replacement: replaces the top row of teeth
Lower Arch Replacement: replaces the bottom row of teeth
Full Mouth Restoration: replaces both rows of teeth simultaneously
Every All-on-4® implant supported denture is custom-made for a comfortable fit and a natural appearance. To achieve exceptional stability the All-on-4® technique requires dental implants to be strategically placed within the jawbone. By positioning two titanium posts in the front portion  of the mouth and placing two more implants at an angle posteriorly, each All-on-4® denture can be securely fastened into place. In some cases, patients may require two more additional dental implants in order to create a more optimal degree of stability. This modified technique is commonly called "All-on-6" to account for the total number of implants used.
How Much Do All-on-4® Dental Implants Cost?
Each All-on-4® procedure is tailored to suit the needs of each individual patient. Consequently, there is no one set price for the procedure. Factors that can affect the cost of All-on-4® may include any tooth extractions or dental care required before the procedure can begin, the total number of dental implants included in the treatment plan, and the laboratory costs for manufacturing the custom restoration(s). Your cosmetic dentist's degree of expertise and the geographic location of the practice may also impact the final price. For our patients at Eastern Virginia Family and Cosmetic Dentistry who could benefit from an affordable dental financing plan, we have several options available.
If you are considering All-on-4® and want to learn more about the procedure, we encourage you to contact our office to schedule a consultation with one of our skilled dentists.