Dental Crowns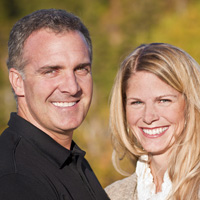 Are misshapen, weak, decayed, or discolored teeth keeping you from the healthy smile you deserve? Dental crowns placed at our Chesapeake office are tooth-shaped porcelain prosthetics that can cover a damaged tooth, or replace a missing tooth. By placing dental crowns, our experienced dentists—Drs. Jeffrey and Clay Weisberg—help their patients to enjoy outstanding function and a renewed appearance in their smiles. Eastern Virginia Family & Cosmetic Dentistry has been serving their patients for more than three decades and can help you improve the health and appearance of your teeth to reward you with a complete smile.
Dental crowns can offer a number of improvements to your smile and provide great protection from further damage. If you think dental crowns may be the solution to your dental needs, contact our office today.
Understanding the Procedure
Dental crowns are custom crafted to closely match the color and proportions of your natural teeth, and can be designed to either restore dental implants or cap a tooth that has been treated for damage or decay.
If you wish to restore a tooth with a crown, the procedure will begin with a local anesthetic to optimize your comfort. Your tooth's outer structure will be gently filed down to make room for the restoration. Once your tooth is prepared, an impression will be taken so that the crown will fit the tooth and be in harmony with your smile. In some cases a traditional impression will be taken, but in most cases the doctors use a digital impression to reproduce the preparation. Using CEREC® technology the doctors create the crown out of high quality porcelain and often times the final restoration can be cemented the same day, eliminating the need for a temporary and a return delivery appointment.
Aesthetic Benefits
The dental crowns provided by our Chesapeake doctors are cut from top-grade porcelain to give your smile the most natural, attractive look. Decayed, yellowing, or damaged teeth can tarnish the appearance of your smile and your face, but with dental crowns, we can make your teeth look healthy and attractive.
Oral Health Benefits
Damaged teeth that go untreated only continue to degrade, and can result in tooth loss. Placing strong, durable dental crowns on your existing teeth preserves your remaining tooth structure while protecting it against more damage or decay.
Candidacy
Generally speaking, anyone with teeth that have experienced damage or decay, but have enough healthy structure left to support a restoration, are suitable candidates for a dental crown. A comprehensive consultation will determine if dental crowns are right for you. If the extent of damage or decay in your tooth is severe, removal of the tooth may be the best option.
Combining multiple treatments at a time may help you achieve the results you desire, so ask us about a smile makeover or full-mouth reconstruction.
Learn More about Dental Crowns
Your oral health directly affects your overall health, and protecting your smile from damage and decay is essential to maintaining a healthy lifestyle. If you are interested in learning more about how dental crowns could benefit your smile, contact our office today to schedule a consultation.