Dental Implants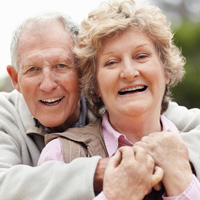 Dental implants can provide an advanced solution for individuals who have lost a single tooth or multiple teeth. These revolutionary restorative options offer a state-of-the-art alternative to traditional dentures, and are known for results that look and feel like natural teeth.
Missing teeth can present a number of problems for your oral health and appearance. The gaps left by these teeth can cause teeth to shift, degrade the jawbone, and make it difficult to eat or speak normally. Of course, missing teeth can also cause feelings of insecurity and embarrassment, and may cause you to hesitate when laughing or smiling.
Our dentists in Chesapeake believe that everyone deserves a beautiful, healthy smile. Drs. Jeffrey and Clay Weisberg can use dental implants to support patients' crowns, bridges, and dentures, improving the appearance, health and function of their smiles. If you would like more information about dental implants, contact our practice to schedule a consultation today!
What Are Dental Implants?
Dental implants are surgically implanted titanium posts that essentially mimic the function of natural tooth roots. Once the dental implant posts are anchored to the jawbone in the area of the missing tooth, they go through a process called osseointegration, whereby the implants fuse to the bone, allowing them to become a permanent part of the mouth. The implants will then create a basis of support for restorations such as custom dental crowns, a bridge, or a denture that will be affixed to the top of them. Once this final stage of the dental implant procedure is complete, the results should function, look, and feel so much like natural teeth that it will be as though the original teeth were never lost.
What Are the Benefits of Dental Implants?
Dental implants provide the very best support for restorations to replace missing teeth. The many benefits offered by dental implants include:
Strong support for restorations that can help you chew, eat, speak, laugh, and smile normally and confidently
They do not slip or move along the gums
Results that are similar to natural teeth in both appearance and function
Prevention of the natural loss of bone cells that can occur in the jaw when tooth roots are absent
Who Is a Good Candidate for Dental Implants?
If your teeth have been compromised by significant damage or decay, have fallen out, or have been severely and irreparably damaged in an accident, dental implants can restore the structure, function, and appearance of your smile. If you are in generally good health, and are free from certain medical conditions, periodontal disease, or other severe dental conditions, you may be a candidate for dental implants. For patients who are currently suffering from periodontal disease, successful treatment for the condition may increase the chances of qualifying as a candidate for dental implants.
A consultation and oral evaluation with one of our dentists will determine whether this treatment is the best option for you. If a dental implant procedure is not the most ideal treatment, our practice offers a range of restorative alternatives, including custom dentures, that can provide exemplary results.
What Are the Different Types of Dental Implants?
Dental implants offer a versatile solution for missing teeth, and there are many types of dental implants to suit a range of individual needs. Some of the most popular include:
Single Tooth Implants
A single dental implant can be placed for a single missing tooth. This option can be ideal for patients with one missing tooth in a particular area of the mouth, providing an alternative to a dental bridge. It's important to note that even just one lost tooth can create a host of problems, including possible loss of bone density and an effect on speaking and chewing. Replacement with a single dental implant can provide excellent functional and aesthetic results while working to prevent further dental issues in the future.
Implant Bridges
An implant bridge can be a good option for patients who have multiple missing teeth in an isolated area of the mouth. Implant bridges essentially serve the same function as a traditional dental bridge; however, instead of relying on dental crowns affixed to surrounding teeth for support, dental implants are placed on each side of the gap to secure the crown or crowns in-between.
Implant Dentures
Also known as implant-supported dentures or implant-anchored dentures, this solution can be highly beneficial for patients who are missing all teeth on the upper dental arch, the lower arch, or both. Implant dentures combine the advantages of custom dentures and dental implants to create a more secure restoration. A custom denture will be locked onto a select number of dental implants placed in strategic areas of the mouth. This system dramatically reduces the potential that the new teeth will slip or move along the gums, and can ultimately produce results that function and feel more like natural teeth. Our practice offers the innovative All-On-4® implant denture technique, which has become one of the more popular options available.
Learn more about implant dentures.
Understanding the Dental Implants Procedure
The dental implant procedure typically requires two surgeries and months of healing time, but can provide a lifetime of superior support for your restorations. The personalized aspects of your treatment will be determined during your initial consultation and will cater to each of your dental needs. This first appointment will involve an in-depth discussion of the procedural steps and recovery instructions, and an assessment of your expectations that will help you and Dr. Weisberg organize the most relevant care plan. If you have any questions or concerns, this visit is a great time to discuss them. Our dentists do perform the implantation surgery upon request, but they also work with some of Eastern Virginia's highest-acclaimed oral surgeons.
On the day of your procedure, we will administer an anesthetic and create an incision in your gum. After gently creating pilot holes in the jaw, the doctor will insert the small titanium screw into your jaw. Your gums will be stitched closed over the top of the implant.
The next stage of the process involves osseointegration, or the fusing of the implant to the bone. The healing time typically ranges from three to six months.
Once your dental implant has properly fused to the bone, we will invite you back to our Chesapeake office to uncover the implant. During this procedure, the tissue around the implant will be sculpted so it can frame the final restoration. A special abutment is attached to the implant, which will serve as the point of contact with the dental crown, bridge or denture. Whether you're having dental bridges, crowns, or dentures placed, our selection of restorations is made with the highest-quality material to make your smile look and function like new.
When the final restoration is affixed to the implant, you should have a beautifully restored smile and teeth that feel natural!
How Much Do Dental Implants Cost?
Dental implant procedures are completely customized based on each patient's needs and goals. With that in mind, the price of dental implants varies among each patient. Components that will affect the total cost of the dental implant procedure include: the number of implants that will be placed; whether a single implant, an implant bridge, or an implant denture procedure is being performed; the complexity of the treatment; laboratory and materials fees; whether any site preparation—such as bone grafts, sinus lifts, or soft tissue grafting procedures—is necessary to ensure optimal esthetics and/or function; and other factors. Once your personalized treatment plan is developed, a member of our dental team will compile a total cost estimate and go over it with you. We will be happy to talk with you about the many different methods of payment we accept at our practice, and we can answer any questions you may have about the possibility of financing your dental implant procedure. We work with CareCredit®, a highly reputable company that offers affordable dental care financing plans for qualified applicants.
The Eastern Virginia Family & Cosmetic Dentistry staff is an excellent resource for financial planning information and guidance. Dental implants can change your life, and are an investment for your future, health, and happiness. If you have questions about the cost of dental implants, our team will answer them.
Learn More about Dental Implants
If you are interested in scheduling an appointment for dental implants, contact us today.