Porcelain Veneers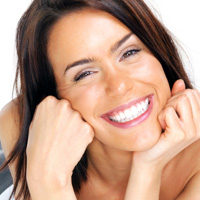 If your teeth are discolored, misshapen, misaligned, or chipped, Drs. Jeffrey and Clay Weisberg can help. The Lumineers® and porcelain veneers provided at Eastern Virginia Family & Cosmetic Dentistry in Chesapeake can mask the imperfections in your smile to give your smile a cleaner, whiter, more refined look. These thin, yet durable shells of porcelain are bonded to the front surfaces of your teeth. This highly individualized treatment will be tailored to fit your smile, and can be artistically combined with other cosmetic dentistry treatments for more inclusive results. If you would like to see what porcelain veneers can do for your smile, contact our office to schedule a consultation.
Understanding the Procedure
As with any of our procedures, the process to place porcelain veneers begins with a comprehensive consultation and evaluation. This appointment will give us a chance to discuss all of your treatment options, your current dental condition, and your goals. If you have any questions or concerns about porcelain veneers, this visit is a great time to address them.
On the day of your procedure a small amount of your tooth's enamel will be gently removed to make room for your veneer. In many situations due to the minimal preparation, anesthesia is not required.We will take a mold of your teeth, which will be used to guide the creation of your veneer. After about two weeks, your veneer will be ready. You will return for a second appointment in which your veneer will be permanently cemented onto the front surface of your tooth for a natural-looking enhancment.
Taking care of your porcelain veneers requires the same management as your natural teeth. Brushing and flossing at least twice a day will help maintain your oral health and the aesthetics of your veneers.
The Benefits
Enhancing the appearance of your teeth does not have to mean invasive surgery or tooth replacement. Porcelain veneers can improve your look and boost your self-esteem. Drs. Weisberg are committed to providing you with the best treatment options and the most satisfying results, so choosing Eastern Virginia Family & Cosmetic Dentistry means receiving the highest quality care.
In addition to improving your smile in their own right, porcelain veneers can be combined with other services such as teeth whitening or dental crowns for a more dramatic enhancement.
Candidacy
Your candidacy will be discussed in detail during your initial consultation, but as long as you are in generally good health and free of periodontal disease and tooth decay, porcelain veneers may be right for you. Drs. Weisberg will go to great lengths to find the best treatment for you and to make your experience with us a positive one.
Learn More about Porcelain Veneers
Redefine the appearance of your teeth and recapture your confident smile. In just two quick appointments, we can send you home with a brand new look and a renewed confidence. If you are interested in scheduling a consultation for porcelain veneers, contact us today.