Chesapeake Dentists Celebrate More Than 40 Years of Providing Comprehensive Dental Care to Eastern Virginia Communities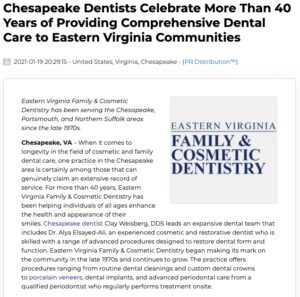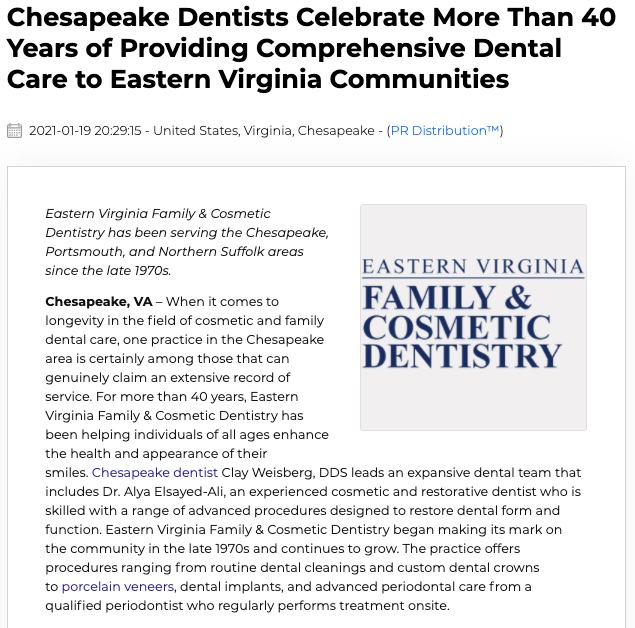 Eastern Virginia Family & Cosmetic Dentistry has been serving the Chesapeake, Portsmouth, and Northern Suffolk areas since the late 1970s.
Chesapeake, VA – When it comes to longevity in the field of cosmetic and family dental care, one practice in the Chesapeake area is certainly among those that can genuinely claim an extensive record of service. For more than 40 years, Eastern Virginia Family & Cosmetic Dentistry has been helping individuals of all ages enhance the health and appearance of their smiles. Chesapeake dentist Clay Weisberg, DDS leads an expansive dental team that includes Dr. Alya Elsayed-Ali, an experienced cosmetic and restorative dentist who is skilled with a range of advanced procedures designed to restore dental form and function. Eastern Virginia Family & Cosmetic Dentistry began making its mark on the community in the late 1970s and continues to grow. The practice offers procedures ranging from routine dental cleanings and custom dental crowns to porcelain veneers, dental implants, and advanced periodontal care from a qualified periodontist who regularly performs treatment onsite.
Dr. Weisberg says one of the many reasons the practice has been such a mainstay in the Chesapeake, Portsmouth, and Northern Suffolk area is the continued loyalty of its patients. In fact, some of their patients have been coming to them since they were children and are now grown up and bringing their own children to the office for dental care. Dr. Weisberg believes that consistently trying to stay ahead of the game in the dental field by introducing new dental technologies and treatments is another reason the practice has been able to maintain continued success in the community. With diagnostic and treatment techniques such as digital x-rays and impressions, microscopic dentistry, CEREC® same-day restorations, and other advanced options, Dr. Weisberg says the practice is able to provide quicker and more accurate diagnoses and procedures while making the process more convenient—and often more comfortable—at the same time. Plus, he notes that the vast range of cosmetic dentistry and restorative services that are available in addition to family dental care options makes it possible for many of their patients to receive the care they need at a single location. Treatments to replace missing teeth, fix cracked and damaged teeth, enhance dental aesthetics, and improve overall health of the teeth and gums are joined by options for patients suffering from bruxism (teeth grinding) and other common concerns.
Eastern Virginia Family & Cosmetic Dentistry also strives to go the extra mile in terms of making their patients as comfortable (and anxiety-free) as possible during their visit. From nitrous oxide options to warm blankets, neck pillows, and noise-canceling headphones, Dr. Weisberg says they want to make patients feel like they are in a home-like environment and as relaxed as possible. The practice is also cognizant of the need to provide quality dental care at a price that can be conveniently worked into their patients' budgets. In addition to accepting a variety of PPO dental insurance plans and financing arrangements through CareCredit®, the practice offers its own Dental Wellness Plan program for uninsured patients.
Dr. Weisberg says the privilege of being able to provide services for more than 40 years is not one that the practice takes for granted. To show their gratitude, Dr. Weisberg explains that they routinely strive to give back to the community. Staff members have volunteered their time for a number of charitable causes, including Give Kids a Smile, which is an event that provides free dental care to children in need. For Dr. Weisberg and the entire team at Eastern Virginia Family & Cosmetic Dentistry, community outreach is just one way of offering thanks for the many wonderful years of trust that residents in Chesapeake and surrounding areas have given them.
About Eastern Virginia Family & Cosmetic Dentistry
Eastern Virginia Family & Cosmetic Dentistry consists of a large team of dental professionals with a combined 250 years of experience between them. The dentists at the practice include Dr. Clay Weisberg and Dr. Alya Elsayed-Ali, both of whom are members of the American Dental Association and many other respected dental organizations. Eastern Virginia Family & Cosmetic Dentistry offers an extensive selection of cosmetic, restorative, and family dental care services for both adults and children, including preventive and general dentistry treatments as well as procedures designed to restore dental function and smile aesthetics. Dr. Weisberg is available for interview upon request.
For more information about Eastern Virginia Family & Cosmetic Dentistry, please visit evadental.com or facebook.com/EasternVADental.
Contact:
Eastern Virginia Family & Cosmetic Dentistry
3221 Western Branch Blvd.
Chesapeake, VA 23321
(757) 483-6297
Rosemont Media
(858) 200-0044
www.rosemontmedia.com