Is It Safe to Go to the Dentist During the COVID-19 Pandemic?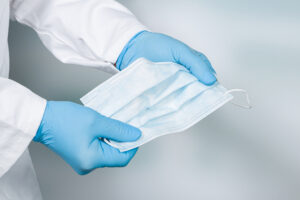 It is perfectly reasonable to question whether businesses and services that require close contact, such as dental offices, are safe during the ongoing coronavirus pandemic. Since the COVID-19 pathogen has proven to be extremely contagious, it has understandably made many individuals concerned about venturing out of their homes even for essential services. With that in mind, it is very important to know the risk factors and to be aware of the many extraordinary precautions that are being taken by dental offices such as ours to mitigate those risks and continue providing patients with essential dental treatments. It is also important to know that a study spearheaded by the Massachusetts Institute of Technology last year found that dental office visits offered one of the best risk-benefit ratios compared to other types of services. 
Published in the Proceedings of the National Academy of Science, the MIT study evaluated 26 categories of businesses. Analyzing metrics such as necessity and crowdedness, the study focused on the overall risk-benefit profile of the business to determine by comparison which ones offered the lowest risk and most essential service. Those that ranked the best—i.e. the businesses/services that presented the most positive risk-benefit profile based on necessity and whether the risk was worth taking to obtain the service—included dental offices, colleges & universities, and banks. You can read more about the study here. 
After nearly a year of living in the midst of the COVID-19 pandemic, we know that social distancing is one of the most important precautions to take. Although dental visits require close physical contact with your dentist, dental hygienist, and other members of the dental team, our office has implemented a number of precautions on top of the normal standards of cleanliness and sterilization we have always undertaken here at Eastern Virginia Family & Cosmetic Dentistry. These enhanced office safety protocols include additional personal protective equipment (PPE), pre-screening questionnaires, continuous disinfection of high-touch surfaces, enhanced air purification techniques, limitations on the number of people in the office at one time, and many other measures designed to help reduce the risk of spreading the coronavirus or other pathogens throughout the office environment. Our page on the enhanced safety precautions we are employing here at our practice also has a brief and informative video with the latest updates. If you have questions, please don't hesitate to contact us. 
While there have been some modifications to scheduling and to the overall treatment experience here at our practice, our dentists in Chesapeake believe these adjustments are necessary both to keep our patients and staff as safe as possible as well as to provide you with peace-of-mind during your visit with us. Regular dental care is indeed a necessary and essential part of maintaining both oral and general health, and we are committed to helping you meet your needs in the safest way possible!