Get Your Summer Smile Ready!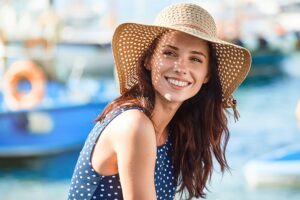 Summer is just around the corner, and while many focus on their "beach bodies" this time of year, another key feature to remember during the summer months is your smile. A variety of treatments and procedures are available that can enhance smile aesthetics and give your teeth a brighter, healthier look. 
During the summer, at the beach, at picnics, or out on the town, you are bound to share laughs and smiles while taking a bunch of pictures. The last thing on your mind should be concerns about how your smile looks when you are trying to have fun and posing for photos. Around this time of year, many have received their tax returns and can use that money to reinvest in themselves. Investing in your smile can pay many dividends that can last throughout the summer and into the future. At Eastern Virginia Family & Cosmetic Dentistry, our dental services can restore both the function and appearance of the teeth with exceptional results. 
Some of our most popular treatments that can be great for preparing your summer smile include porcelain veneers, teeth whitening, cosmetic bonding, or a complete smile makeover. Teeth whitening and porcelain veneers particularly offer ideal options to quickly renew the appearance of your teeth before summer fully kicks into gear. Teeth whitening can lighten the teeth by several shades and give the smile a brighter appearance, while porcelain veneers can correct numerous concerns affecting smile aesthetics, including signs of short or uneven teeth, deep stains, chips and gaps, and even some cases of misalignment. Our team can evaluate your needs and goals during an initial consultation and work with you to develop a comprehensive cosmetic dentistry treatment plan.
If you want to get your summer smile ready for the months ahead and beyond, contact our practice today!